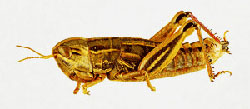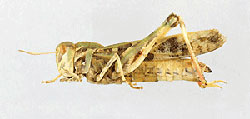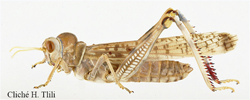 Writing of the genus Pamphagus : species identifications and interactive key.
B. MASSA Professor. Dipartimento di Scienze agrarie, alimentari e forestali
V. le delle Scienze, ed. 4A
90128 Palermo (I)
Photographs courtesy :
Royalty free images of locusts in their natural habitat are welcome to illustrate the website.
GAUQUIE, B.
Tmethis sp.
MOUSSI, A. Acinipe algeriensis

,

Thalpomena coerulescens
VIGO, G. Anacridium melanorhodon

,

Calliptamus barbarus

,

Dericorys murati

,

Scintharista notabilis

,

Tenuitarsus angustus

,

Truxalis procera

,

Tuarega insignis
Tuarega insignis 2

.


GARCIN, A. Glauvarovia mendizabali

,

Paracinipe exarata

,

Poekilocerus bufonius hieroglyphus.
TLILI H.HeteracrisLeptopternis rothschildi, Sphingonotus obscuratus lameerei.
FRANÇOIS, J. : Tuarega insignis
MASSA, B. Pamphagus milevitanus

, male and female paratypes.


Genitalia : P. auresianus

,

P. caprai

,

P. cristatus

,

P. djelfensis

,

P. elephas,

P. milevitanus

,

P. tunetanus

.



MASSA, B. collection specimens :
Acinipe tibialis ,
Acinipe strigata.
Contribution to the geolocation of old sites :


TARRIER, M R. Entomologist. Lepidoptera of Morocco.
FRANCOIS, A. Entomologist. Emirates Center for Wildlife Propagation (ECWP), Missour, Morocco.
Dr. JILALI, A. Geologist. Mohamed I University, Oujda, Morocco.
GARCIN, A. Naturalist. Flora of Western Sahara.
FARDET B. expert of SIG about Western Sahara.