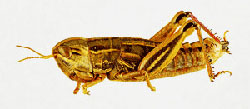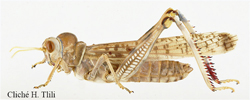 Home
"NorthWest Africa grasshoppers and locusts" is a knowledge base which aim is to make an updated assesment of the richness and diversity of the Orthoptera, Caelifera, Acridomorpha group in North West Africa.
Tow complementary approaches are proposed.
A "Key to species" menu allows with the aid of thehref="http://www.xper3.fr target="_blank" Xper software to identify specimens at the species level or at the genus level.
A "Species Index" menu provides an access to descriptive cards with pictures, key-characters for identification and distribution maps.
Photographed specimens are deposited in the Museum national d'Histoire naturelle in Paris and high definition images are available in
databases of collections
, tick the box : "Photographed only" to display them.
When referencing this website, please use the following format: Louveaux A. , C. Amédégnato , S. Poulain & L. Desutter-Grandcolas. North West Africa Grasshopers and Locusts. Version [retrieval date]. <http://acrinwafrica.mnhn.fr/>.